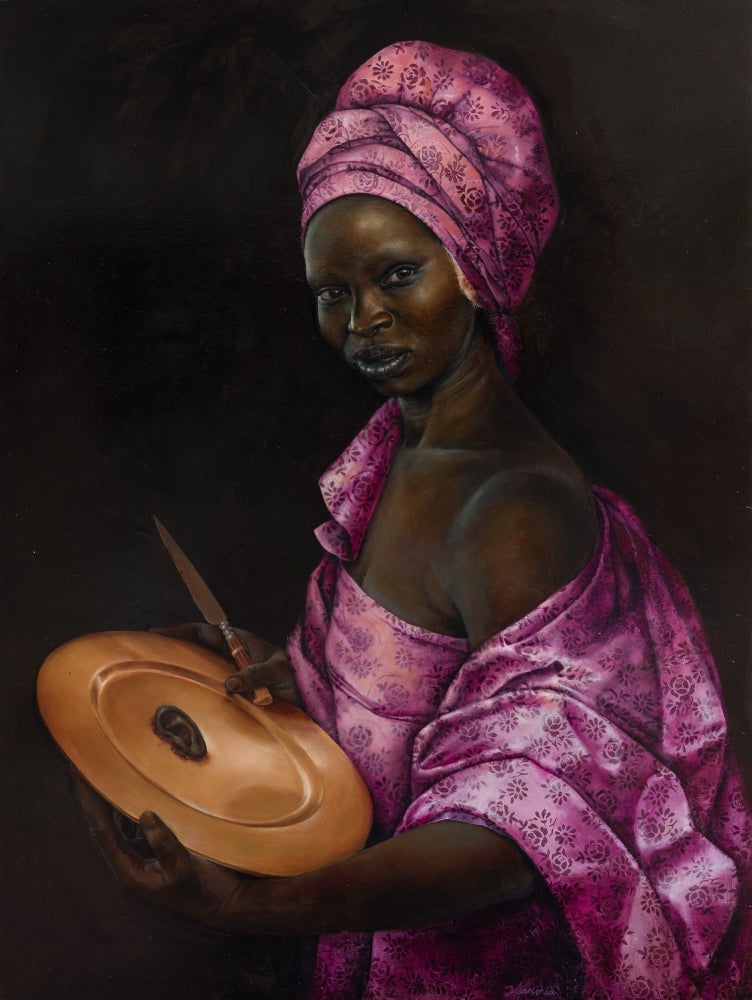 Familiar Forms, Unfamiliar Tales
Harmonia Rosales, in new exhibition at Art, Design & Architecture Museum, reimagines classical imagery for a multicultural America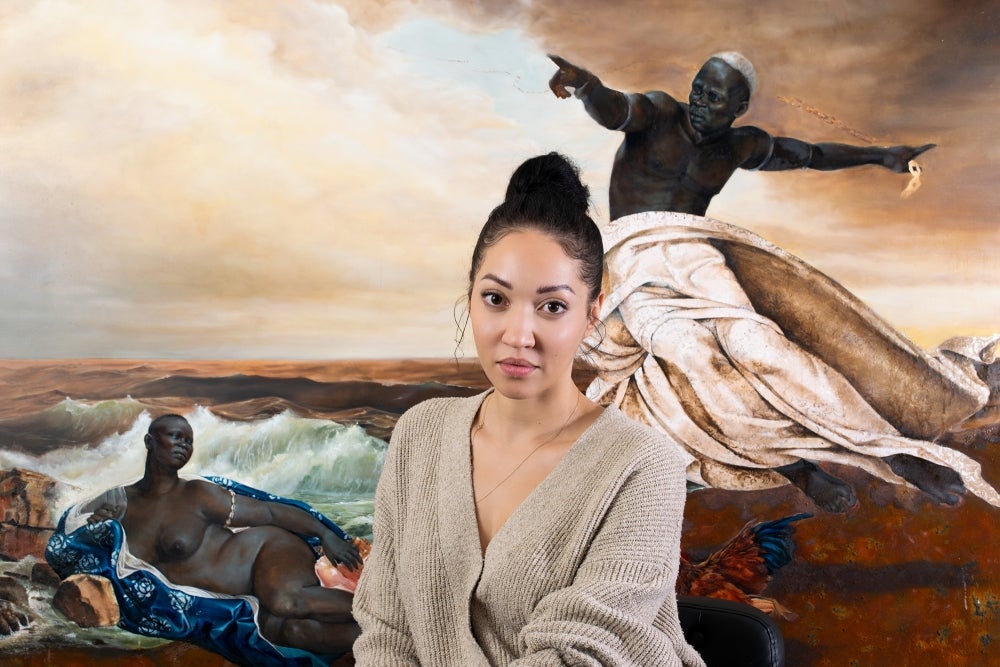 There's something simultaneously familiar and startling about the art of Harmonia Rosales. Sometimes overtly, other times subtly, her paintings allude to Renaissance masterpieces — tableaus of gods and mortals, often drawn from Greek mythology.
But the figures that populate her canvasses — deities and human beings alike — are Black, and the ancient stories she depicts are drawn from the Yoruba religion of West Africa. The results inspire viewers to reevaluate some of the assumptions of classical art, even as they point to the deep connections between different cultures' faith traditions.
"Western art history has, for so long, prioritized a predominantly white, European narrative," said Gabriel Ritter, director of the UC Santa Barbara AD&A Museum, where a new exhibit of Rosales' work, "Entwined," runs Jan. 19th through May 1st.
"Harmonia's work challenges us to rethink the Western canon, and reflect on its bias.
"She speaks often about going to museums as a child and not seeing representations of Black or Latinx individuals in those spaces. She wanted to make the stories of those cultures visible to others."
"It's complicated art that makes you think," said curator Helen Morales, Argyropoulos Professor of Hellenic Studies at UC Santa Barbara. "Part of her relationship with Greek myths is to critique and supplant them with stories that are less well-told, and figures who are less often seen.
"The results are absolutely stunning," Morales added. "Her art works on both an intellectual and an emotional level."
Rosales, who is originally from Chicago and based in Los Angeles, traces her roots to several diverse cultures: She is Afro-Cuban on her father's side, Jewish on her mother's side. She first gained national attention when one of her works — a variation on Michelangelo's iconic "Creation of Adam" in which she portrays both God and the figure representing humankind as Black women — went viral in 2017.
The UC Santa Barbara exhibition opens with another painting from that era, "The Birth of Oshun," a reconception of Botticelli's famous "Birth of Venus." The other works on display are newer: All but two were created specifically for this show, and only one has previously been seen by the public.
"During this period, she sold a painting to the Smithsonian," Morales noted. "Her star continues to rise!"
Of Rosales' more recent paintings, "none of them are a direct appropriation of an earlier image," Ritter noted. "There's a mixture of influences. Some reference the early Renaissance, or works in the Sistine Chapel. Many contain allusions to works in the Western canon, but they tell their own stories."
Ritter argues that her juxtaposition of familiar forms and unfamiliar tales forces us to question some of our foundational myths — who is telling them, and who they are serving. "Those are profound and powerful questions we need to be asking ourselves," he said. "That's both timely and long overdue."
Morales, who had never before curated an art exhibition, conceived the show during "a moment of malaise" early in the pandemic. An expert on Greek mythology, she came across Rosales' work online and found it to be "one of the few things that transported me out of those miserable circumstances. I thought, 'Wouldn't it be wonderful to be able to see her art in person?'"
She contacted the artist and officials from the museum, all of whom were enthusiastic about the idea. So she got to work.
"I did a lot of research and spoke to curators as to how their approach their job," she said. "I took a year and researched Yoruba mythology, with the help of Elizabeth Pérez in the religious studies department, and Sophia McCabe, who is the academic coordinator at the museum. Her specialty is Renaissance painting. So I drew upon quite a lot of expertise across UCSB. I wanted to understand the Yoruba myths as well as I could."
Morales shares some of that knowledge in the labels accompanying each of the paintings, four of which also include small images of the Renaissance masterpieces that inspired them. "If you know Greek mythology, you'll understand the connections instantly," she said. "If you don't, the labels and the brochure bring out the parallels.
"Some of her work is really political; it represents the Middle Passage, which is how Yoruban stories made it to Cuba. The brutality of white supremacy is part of her work. But she's also interested in what empowers and humanizes us, and the connections between different stories and different cultures."
"This has always been the story of art — this kind of borrowing and back-and-forth dialogue," added Ritter. "To see it done in a new way can be jarring, but it has been done for so long in one direction (with white artists borrowing from Black and Indigenous cultures). It's about upending historically entrenched power dynamics."
Due to COVID concerns, the museum has not scheduled an opening ceremony for the public. But a series of related lectures and programs have been scheduled, including a Zoom talk by Rosales herself at 4 p.m. Jan. 27, which is co-sponsored by the Interdisciplinary Humanities Center and the Classics Department.
Morales admitted that curating the exhibit was a more difficult process than she originally envisioned. But she found it was a positive way to stay engaged during these challenging times.
"Beauty, creativity and an invitation to reflect on a changing world are the things that have kept me going during the pandemic," she said. "This exhibition contains all of those."
For more information, visit https://www.museum.ucsb.edu/news/feature/929 or call (805) 893-2951. The museum is open from noon to 5 p.m. Wednesday through Sunday. Admission is free.