UC Santa Barbara Center for Film, Television, and New Media Named for Emmy Winners Marcy Carsey and Dick Wolf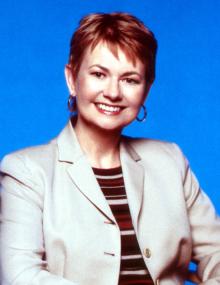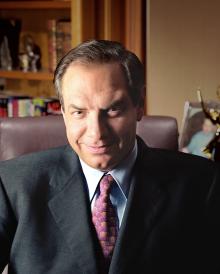 UC Santa Barbara's Center for Film, Television, and New Media will be named for Emmy Award-winning television producers Marcy Carsey and Dick Wolf in recognition of their generous contributions toward the construction of a new instructional and research facility for the innovative interdisciplinary center.
The Carsey-Wolf Center for Film, Television, and New Media will include a public film theater, production facilities, screening rooms, computer labs, archives, and meeting rooms for scholars, students and visiting fellows from related industries.
Through the center, UCSB faculty from the arts, humanities, and sciences collaboratively teach and conduct research on all forms of mass media from a variety of cultural, historical, and social perspectives.
"My family and I are proud to be associated with UC Santa Barbara's Center For Film, Television, and New Media," said Carsey, whose two children are UCSB alumni.
"UC Santa Barbara will soon have premier facilities equal to the reputation of this pioneering program, which is becoming widely known for its interdisciplinary and highly creative approach to teaching and research."
Wolf said he was "honored to be part of UCSB's cutting edge program.
This center at UC Santa Barbara will help shape the future of film, television, and new media by educating the best and the brightest on an interdisciplinary level," he said.
The center brings together students and scholars from UCSB's nationally renowned departments of film and media studies and communication, as well as 15 other departments who now teach and conduct research at various campus locations.
Major projects underway at the center include an environmental media initiative, a media ownership project, and a student internship program.
"UC Santa Barbara is extremely grateful to Marcy Carsey and Dick Wolf for their guidance, leadership, and extraordinary commitment to our campus and this landmark project," said UCSB Chancellor Henry T. Yang.
"We applaud them for their bold vision, and are honored and proud to have two of the most creative forces in the history of television permanently associated with our campus in this significant way."
Thus far, nearly $10-million in philanthropic support has been contributed to the innovative interdisciplinary media center and its new home.
Carsey and Wolf were the lead donors for the project.
The new facility will be part of a state-funded academic building complex that is scheduled to break ground in early 2007.
Carsey and Wolf serve on the center's distinguished advisory board.
Carsey is also a trustee of The UCSB Foundation, and a longtime benefactor of the campus.
David Marshall, dean of humanities and fine arts and executive dean of the College of Letters and Science, thanked Carsey and Wolf for their "support of UC Santa Barbara's interdisciplinary and liberal arts-based approach to the study of media, as well as their understanding of the center's contributions to public policy."
Other major gifts for the Carsey-Wolf Center included $2-million from Joseph and Helene Pollock and their family; $1-million from Academy Award winner Michael Douglas, a UCSB alumnus; and a $1-million grant from the Annenberg Foundation.
Joseph Pollock, Douglas, and Wallis Annenberg, vice president of the Annenberg Foundation, are also members of the center's advisory board.
UCSB is seeking an additional $10-million in private funds for equipment and programmatic endowment support for the center.
The Carsey-Wolf Center for Film, Television, and New Media, with 15,600 square feet of space, has been designed by the architectural firm of Kallmann, McKinnell and Wood of Boston.
About the Donors
Marcy L. Carsey
Named one of the 50 greatest women in radio and television, Emmy-winner Marcy Carsey is partner and co-founder of one of the most successful independent studios in television history, Carsey-Werner Productions.
For over 20 years Carsey-Werner has been one of the leading suppliers and distributors of television throughout the world.
Their productions include "The Cosby Show," "Roseanne," "3rd Rock from the Sun," "That 70's Show," and "Grounded for Life."
In addition, Carsey-Werner joined forces with Geraldine Laybourne, former head of Nickelodeon, and talk show host and magazine publisher Oprah Winfrey to create Oxygen, a multimedia company with a new television network and interactive Internet site for women.
Carsey and her partner have been inducted into the halls of fame of the Academy of Television Arts And Sciences and "Broadcasting and Cable Magazine."
She has received the Emmy Award, the Peabody Award, the Humanitas Prize, the NAACP Image Award, the David Susskind Lifetime Achievement Award from the Producer's Guild of America, the Publicist's Guild's Showman of The Year Award, and the Lucy Award from Women In Film.
In 1999, she was given the Golden Plate Award from the American Academy of Achievement, placing her in the Museum of the American Dream as one of the 20th century's most extraordinary achievers.
Carsey is a native of Weymouth, Massachusetts, and a cum laude graduate in English literature from the University of New Hampshire.
At UC Santa Barbara, she serves as a trustee of The UCSB Foundation, co-chair of the advisory board for the Carsey-Wolf Center, and is a leading benefactor.
Her additional gifts to the campus include founding support for the "Critical Issues in America" program that examines a specific social issue each year through public lectures, panel discussions, and undergraduate courses, as well as support for the Gevirtz Graduate School of Education.
She is also an Honorary Alumna of UCSB.
Her two children are UCSB graduates.
Dick Wolf
Dick Wolf is one of television's most respected drama series creators and an Emmy Award-winning producer who has been a creative force in television for more than 25 years.
A graduate of the University of Pennsylvania, Wolf started his career in advertising then went on to become one of television's most prolific producer/writers.
He is the architect of one of the most successful brands in the history of television -- "Law & Order."
He serves as creator and executive producer of the three "Law & Order"-branded drama series from Wolf Films and NBC Universal Television.
Wolf's company also produced "Twin Towers," the 2003 Academy Award-winning Short Documentary.
Wolf's "Law & Order," now in its 17th season on NBC, is the longest-running current drama series on television.
It has received 11 consecutive Outstanding Drama Series Emmy nominations and has tied the record for the most consecutive series Emmy nominations in the history of television (with "Cheers" and "M*A*S*H").
"Law & Order" won the coveted Emmy in that category in 1997.
"Law & Order: Special Victims Unit" is in its eighth successful season on NBC, and "Law & Order: Criminal Intent" is enjoying a ratings surge in its sixth season on NBC.
Wolf began his film career as a writer, and earned acclaim for his screenplay of the Paramount theatrical release "School Ties."
He was nominated for an Emmy as a writer for "Hill Street Blues." Wolf's other projects include the films "Masquerade" and the television series "New York Undercover," "Crime & Punishment," "Miami Vice," "Players," and "L.A. Dragnet."
Wolf's personal honors include the Award of Excellence from the Banff Television Festival; the 2002 Creative Achievement Award from NATPE; the Leadership and Inspiration Award from the Entertainment Industries Council; the Governor's Award by the New York Chapter of the National Academy of Television Arts & Sciences; the 1997 achievement award from the Caucus for Producers, Writers, and Directors; and the 2002 Tribute from the Museum of Television and Radio.
At UC Santa Barbara, Wolf serves on the advisory board for the Carsey-Wolf Center, and is a generous campus donor.
Related Links