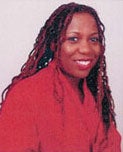 This year's incoming class -- some 5,000 freshman and transfer students strong -- gathered near the campus lagoon September 18th for ceremonial induction into the UCSB academic family.
The new students heard Chancellor Henry T. Yang, keynote speaker Dr. Bertice Berry, student body president Mahader Tesfai, and others offer words of advice, encouragement, friendship and acceptance.
In turn, the new students were asked to make fresh commitments scholarship, leadership and citizenship.
One sentiment was oft-repeated in the remarks of all:
Welcome!