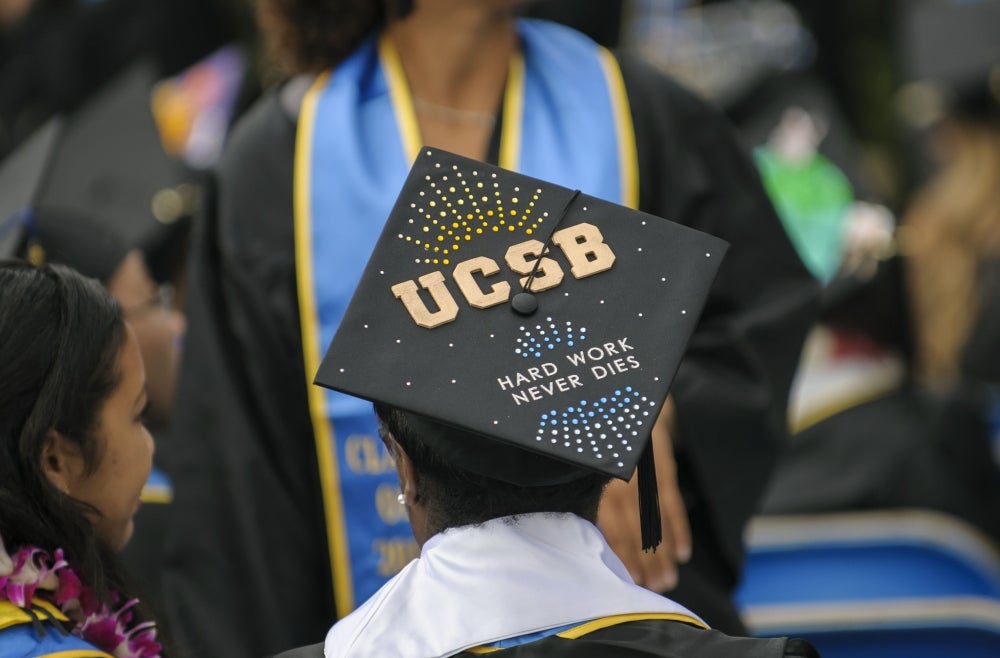 Away We Go
UCSB's annual commencement exercises to celebrate 5,745 graduates for 2015–2016
By the close of the 2015–2016 academic year, UC Santa Barbara will have awarded a combined 5,745 undergraduate and graduate degrees. That accomplishment will be celebrated in eight official commencement ceremonies, to be held on campus over eight days, starting June 5 and concluding June 12.
The ceremonies are organized by college, level of degree and field of study. Chancellor Henry T. Yang will shake the hand of every student graduating from the College of Creative Studies, the College of Engineering, the College of Letters and Science, the Bren School of Environmental Science & Management, and the Graduate Division.
The College of Creative Studies will lead off with its ceremony Sunday, June 5, at 11 a.m. in Campbell Hall. The Bren School of Environmental Science & Management will conduct its ceremony Friday, June 10, at 10 a.m. in the Bren Hall Courtyard.
On the weekend of Saturday, June 11 and Sunday, June 12, six ceremonies — three each day — will be held on the Faculty Club Green fronting the UCSB Lagoon.
All eight ceremonies will be webcast live. Over June 11-12, web coverage will be continuous, beginning at 8:30 a.m., running through and between the 9 a.m., 1 p.m. and 4 p.m. events. A link to the webcasts will be available via the UCSB home page, at www.ucsb.edu.  
A listing of ceremonies and guest speakers follows.
Sunday, June 5, Campbell Hall
11 a.m. – College of Creative Studies
Guest Speaker – Carol Greider '83, Daniel Nathans Professor and Director of Molecular Biology and Genetics, Johns Hopkins University, 2009 Nobel Prize in Medicine
Student Speakers – Carolyn Kirwan, biology; Joseph Mann, chemistry and biochemistry; Alyssa Rogers, art
Friday, June 10, Bren Hall Courtyard
10 a.m. – Bren School of Environmental Science & Management
Guest Speaker – Tom Steyer, founder and president, NextGen Climate
Saturday, June 11, Faculty Club Green
9 a.m. – Sciences
Guest Speaker – Gus Gurley, co-founder, Digital Instruments
Student Speaker – Gold Okafor, biopsychology
1 p.m. – Engineering and Sciences
Guest Speaker – Pamela Lopker, chairman of the board and president, QAD
Student Speakers – Andrea Renteria, psychology; Oluwagbogo Adebayo-Ige, chemical engineering
4 p.m. – Social Sciences I
Guest Speaker – Jeff Henley '66, vice chairman, Oracle Corporation
Student Speaker – Reina Sultan, political science
Sunday, June 12, Faculty Club Green
9 a.m. – Social Sciences II
Guest Speaker – Blair Hull '65, founder and chairman, Hull Investments
Student Speaker – Efthimia Sklavenitis, global studies
1 p.m. – Humanities and Arts
Guest Speaker – Kenneth S. Kosik, UCSB Harriman Professor of Neuroscience Research; co-director, Neuroscience Research Institute
Student Speaker – Émile Nelson, English
4 p.m. – Graduate Division
Guest Speaker – Duncan Mellichamp H '09, founding member, UCSB Chemical Engineering Department faculty
Student Speaker – Jonathan D. Gomez, sociology, Black Studies emphasis (Ph.D.)